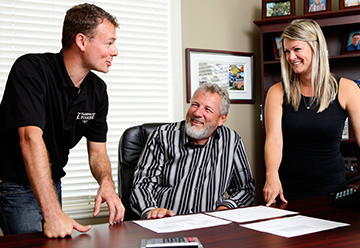 1996-2000
A few years later, Christian Poirier, Réal's son, shows a particular interest in transportation services. He climbs the corporate ladder as a truck washer, a mechanic, a driver and then dispatcher. Today, he succeeds his father in the management of the family-run business.
Time goes on and the company grows. In the early 2000's, Catherine Poirier and David Poirier, Mr. Réal Poirier's children, respectively join the team as an accountant and a mechanic.
The company now owns about 30 units and hires more than 15 independent drivers.  These are the outlines of a family-owned company that takes transportation and their clients to heart,,,
It will be our pleasure to serve you!